Attention UH CO-OP Interns and Applicants,
The UH Cooperative Education Program will begin accepting online Summer 2021 and Fall 2021 UH CO-OP applications on Friday, April 16, 2021. All interested students must already be enrolled in Fall 2021 classes (unless providing official UH exemption documentation) and have no holds on the student account in order to apply to the program.
IMPORTANT NOTE: The electronic approval process can take 3-5 business days to complete. Students are strongly encouraged to submit completed paperwork at least one week in advance of the desired start date to prevent approval delays. If you have any questions after reading the instructions, please reach out to our team at ecareers [at] central.uh.edu or Join the UH CO-OP office hours on Microsoft TEAMS.
The University of Houston Cooperative Education Program (CO-OP) is an internship program that gives UH students an opportunity to receive career training with pay as they work with professionals in their major fields of study. Work experience in areas such as government, business, industry, and human services enhances the students' academic training. This professional and educational experience is documented on the student's official college transcript and is viewed as a valuable asset by potential employers.
CO-OP consists of competitive industry leaders and higher education institutions "cooperating" with one another to provide hands-on work experience to full-time actively enrolled students within a degree seeking program, while simultaneously receiving vital assistance from student interns to complete company projects and initiatives.
Most employers who hire CO-OP interns use the CO-OP concept as a recruiting tool. They tend to fill their new hire vacancies with graduates from their own CO-OP programs, whenever possible, since they already know the capabilities and work habits of the CO-OP interns they have trained. CO-OP positions are offered on a part-time, parallel basis (20 hours or less weekly) or a full-time, alternating basis (21-40 hours weekly). UH CO-OP is not offered to recent UH graduates or alumni.
What students can apply for UH CO-OP?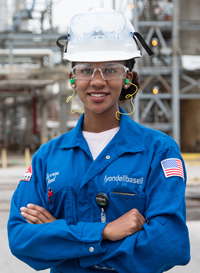 Most students participate in CO-OP at the start of their junior year but all student levels are eligible to apply to CO-OP after completing a minimum of two semesters of college in the United States, including currently enrolled post-baccalaureate, DACA, F-1 international, and graduate students. CO-OP positions are available in most UH college disciplines, especially engineering, business, and natural science and mathematics.
Students must be in good academic standing within their college, enrolled full-time the semester (Long Semester: Fall or Spring) prior to participating in CO-OP, and enrolled full-time the semester after participating in the CO-OP program if the student is not graduating.
UHin4 Students: While participation in UH CO-OP is an exception to the continuous enrollment requirement, it does not exempt you from the four-year graduation requirement. It is your responsibility to discuss with your academic advisor how accepting this CO-OP opportunity will impact your UHin4 and Fixed Tuition eligibility.
Is there a fee to join UH CO-OP?
Yes, there is a $215 program fee charged each semester a student receives education/training as a UH CO-OP intern and the fee is posted directly to the student's PeopleSoft account. Some employers reimburse the student for the fee and it is up to the student to discuss with the employer regarding CO-OP fee reimbursement. If the employer agrees to reimburse the student, the student should contact the CO-OP office about the fee reimbursement procedure once they have paid the fee in PeopleSoft.
What are the advantages of being a UH CO-OP Intern?
Becomes an official recognition and honor on the student's academic transcript.
Provides months of meaningful experience, making the student more valuable to an employer upon graduation. Many companies reduce recruiting and training costs by hiring former CO-OP interns.
Enables a student to earn money to help finance his/her college education.
Makes academic work more meaningful through practical application of classroom principles and many employers have lab facilities and equipment that are not available on most campuses.
Creates the proper environment to explore career choices and be professionally exposed to diverse opportunities within a specific field of study before graduation.
Offers the opportunity to collaborate and network with professionals who have many years of experience in the student's major field of study.
Students can retain actively enrolled status while working as a part-time or full-time CO-OP intern.
What is a CO-OP Work Report?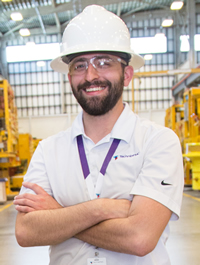 The CO-OP Work Report must be completed to verify the work is educational training in a particular field of study. Instructions and deadlines for each semester's Work Report is provided in Blackboard each semester for each course. A grade (Satisfactory or Unsatisfactory) is assigned based upon proper completion of the Work Report submitted by the student each semester of CO-OP.
CO-OP interns must accurately complete and submit a Work Report on time each semester to verify the CO-OP internship experience is within their field of study. Review of the Work Report (which includes an employer evaluation) assists in determining the grade received on the official transcript. Work Reports must be completed, submitted as one document, and signed by the appropriate employment supervisor before each semester deadline in Blackboard.
Submitting the Work Report after the deadline will result in the student receiving a grade of Unsatisfactory on the official transcript. All students are expected to abide by the university's Academic Honesty Policy when submitting the Work Report and no Work Report from previous semesters will be accepted.
Can an intern complete back-to-back full-time CO-OPs during fall and spring semesters?
No. Full-time rotational work experience (21+ hours or more per week) during fall or spring cannot be completed back to back. To maintain full-time actively enrolled status CO-OP interns must be on one semester and off the next semester for full-time work experience within the UH Cooperative Education Program.
How can students officially join UH CO-OP?
Click one of the boxes below to learn about the electronic submission process for submitting the UH CO-OP application.
UH CO-OP Important Links