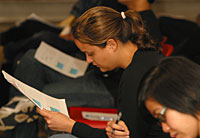 Code of Ethics
The Engineering Career Center requires students to act in a professional and ethical manner in all aspects of recruiting and career services, with the acknowledgement that providing misinformation in the recruiting process or failure to follow through with accepted appointments, interviews or job offers may result in the loss of career center privileges at the Cullen College of Engineering.
By signing into the eCONNECTION system, you have acknowledged that you read and agree to the policies of the Engineering Career Center.
Counseling Appointment No-Show Policy
After one no-show for scheduled appointments (resume review, cover letter review, mock interview or general career counseling) without notifying a member of the Engineering Career Center team, a student will be "soft-blocked" in eCONNECTION which will limit access to many services.
A student with two or more no-shows for scheduled appointments without prior notification is subject to getting blocked for remainder of current academic semester in eCONNECTION. Notification will be sent and student will be required to meet with Engineering Career Center Director to determine if access should be granted.
Interview Cancellation/No-Show Policy
Late Cancellations and No-Shows result in companies having open slots on their schedules that are difficult to fill and can potentially affect the relationship between the college, the career center and industry partners. To promote and encourage student behavior that is consistent with our goal of having a robust Recruiting Program, the following policies are in effect:
No-Show: Interview No-Shows are not tolerated.  A No-show is when students cancels an interview at the last minute or fails to show for their scheduled interview time.
Late Cancellation: An interview cancelled less than two (2) business days prior the scheduled interview date is considered a Late Cancellation. For example, if you have an interview scheduled for Monday, you have until 5:00pm the preceding Wednesday to cancel without being considered a Late Cancellation. Remember weekends and holidays CANNOT be counted in the 2 day time period.
Cancellations: Students unable to keep an appointment for an on-campus interview may cancel the interview two (2) days prior to their scheduled interview through eCONNECTION without penalty.
Penalty: Late Cancellation or No-Show will automatically result in suspension from eCONNECTION for one long academic semester.
Appeal Process: For a Late Cancellation and/or No-Show, the student must schedule an appointment with the Director of the Engineering Career Center in Suite E312 Engineering Building 2. At the scheduled appointment, student must provide a draft of an apology email that will be sent to recruiter/company representative. If a student fails to complete this step, access to eCONNECTION will extend past the initial one semester period.
Our policy is not meant to harm the student but to help the Engineering Career Center office maintain positive relationships with companies that participate in our Recruiting Program involving internships, co-ops and full-time employment opportunities. When a student fails to maintain their responsibility in the recruiting process, strong relationships are damaged and result in lost resources and access to future opportunities for students in the Cullen College of Engineering.
First Offense
If student cancels an interview late or fails to keep a scheduled interview appointment with an employer, they must do the following:
Make an individual appointment to discuss the late cancellation or no show with the Director of the Engineering Career Center
Write an apology letter/email to the employer
Bring a draft of the apology to the appointment.
If not completed in a timely manner, eCONNECTION privileges will be terminated until the start of the next academic semester.
Second Offense
If student cancels an interview late or fails to keep a scheduled interview appointment with an employer, eCONNECTION privileges will be immediately revoked for the remainder of the academic year.
Apology Email
An apology is important, as it helps to repair a tarnished image due to an interview cancellation or no-show with a company that recruits Engineering Coogs. The apology should include:
Explanation for an interview late cancellation or no-show
Genuine regret and acknowledge the inconvenience to the recruiter given his/her time and preparation
A request consideration for an alternative time to meet or express your continued interest in the company
Student Obligations
A student should fulfill all promises and obligations
Provide Engineering Career Center with accurate information
Adhere to schedules
Accept an offer of employment in good faith
Notify employers in a timely manner of an acceptance or non-acceptance of a job offer
Withdraw from the recruiting process after accepting a job offer
Interview only with employers that you are interested in working for and have met the company's eligibility requirements
Dress and conduct yourself in a manner that models the College's commitment to community
Be prepared for all recruiting events
Uphold ethical guidelines
Accepting Job Offer Policy
If a student has accepted a job offer, it is highly recommended that they discontinue the job search. The Engineering Career Center is committed to counseling students as it relates to the entire job search process, including but not limited to, application, interview, job offer review, acceptance and much more. Many employers consider it unprofessional to accept a position only to later decline when a more appealing offer is given; reneging on an offer can have a significant impact on the Cullen College of Engineering. To avoid this situation, we advise students to carefully evaluate the offer, before accepting or declining. Our team is here to support students in making the decision that is right for them BEFORE they commit.