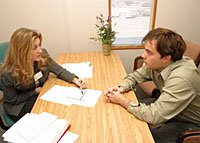 Information Sessions coordinated with employers and the Engineering Career Center are listed in eCONNECTION each semester for students to mark their calendars when employers are on campus targeting the best candidates to meet, provide information about their organization, interview and hire.
The Engineering Career Center also offers a variety of career-related workshops to prepare students for the workforce. Each hour-long workshop allows students to gather new information and prepare for their job search or next employment experience.
Please visit eCONNECTION to view all workshops, info sessions, and all events.