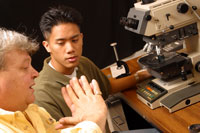 The Cullen College of Engineering Career Center offers various modules to assist employers with their recruiting and hiring needs, as well as branding to students.
Employers can target over 3200 currently enrolled/recently graduated students for co-op, internship, and full-time positions in the biomedical, chemical, civil, environmental, computer, electrical, industrial, mechanical, petroleum, and sub-sea engineering disciplines to meet internship and new hire employment needs.
PLEASE NOTE: Recent engineering graduates include engineering students 0-6 months after graduation. The eConnection database does not house experienced hires or alumni.
The Engineering Career Center provides:
Free on-line job postings for employers (eConnection)
Fall and Spring career fairs open to UH engineering students only
On-Campus Recruiting (OCR)
Student resume database (eConnection)
Student career support: professional development and employer networking events, workshops and information sessions.
Developing leaders is our job, employing them is yours. Our future leaders will be an asset to any organization because they are:
Committed - They have the desire to contribute, be effective, and make a difference in their chosen engineering disciplines.
Creative - They are motivated to understand, seek information, reason, analyze and develop skills that can be adapted to any industry or environment.
Insightful - They recognize and understand the diverse community in which they live, and the on-going global transitions in employment, research, and development.
We encourage you to explore our website and to take the opportunity to meet with us in person at the Engineering Career Center.